We've Launched our Colorado Artisan Pasta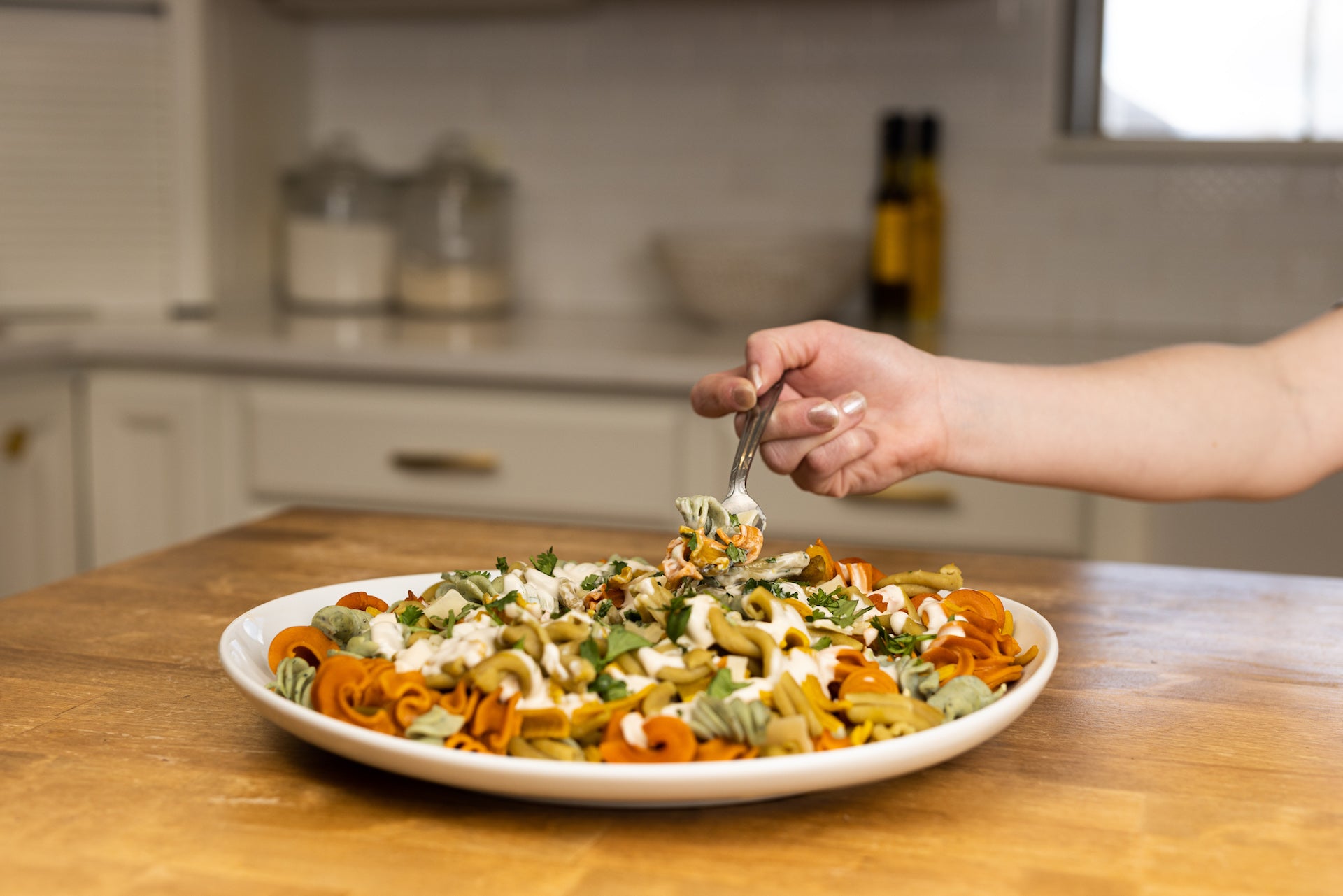 We've finally launched our Colorado artisan pasta line! After months of anticipation, our pasta is now available and we couldn't be more thrilled to share it with you!
For a while now, I wanted to add some food flare to the market and so I found my way to pasta — pretty pasta of course! 
A true labor of love, the pasta concept has been in the works for months. Not knowing anything about making pasta, I taught myself how to with hours and hours of research and continually testing the pasta to get it just right. It has not been an easy process but...
All this work has led to this moment and I couldn't be more thrilled with the final product!
Each pasta is handcrafted in our Colorado workshop, hand-cut for a rustic artisanal look and feel. Drawing in inspiration from our bountiful corner of the world in the San Luis Valley, our Southwest pasta flavors, like the dried hatch chiles from New Mexico, are infused into every piece of pasta for a flavorful bite every time. 
The pasta line features a variety of shapes, flavors and colors - all carefully crafted to ensure perfect cooking with delicious taste and texture. But that's not all - our pasta is also visually appealing, with natural coloring and textures. Using simple ingredients like chipotle powder, hatch green chil powder, turmeric and more, our pasta is free from artificial food colorings and dyes, so you can feel good about what you're eating. 
And with five flavors to choose from, there is something for everyone — Chipotle Fettuccine, Hatch Fettuccine, Red Chile Fettuccine, Italian Herb & Garlic Fettuccine and a colorful Southwest blend. 
Make as your main dish or pair with a good steak, salad or fish. Our pasta is versatile and will soon be your favorite part of the meal!
The wait is over…
Introducing our marketplace pasta - the newest addition to the Good Things family! 
Chipotle Fettuccine Artisan Pasta
Our Chipotle Fettuccine is made with smoky chipotle spices, making this a unique pairing with grilled foods or your favorite Bavarian or Italian Sausage. 
Hatch Green Chile Fettuccine
The Hatch Green Chile Fettuccine is loaded with flavor using authentic mild chilies from the Southwest! Green chiles are grown in both Colorado and New Mexico so we're perfectly placed in the center of it all to easily access these seasonings.
Southwestern Blend Artisan Pasta
The colorful Southwestern Blend Pasta is a beautiful bag of pasta — perfect as a hostess gift or as a pasta salad show stopper. Each pasta's unique flavor comes through to give just the right amount of hatch green chile, red chile, blue and yellow corn for that perfect Southwest blend.
Italian Herb & Garlic Fettuccine 
The Herb & Garlic pasta is one of more traditional fettuccine blends, but also one of our favorites! A blend of herbs and delicious garlic makes for an classic pasta dish. And while no sauce is needed, I suggest a light cheesy Alfredo drizzle to top it off! 
Red Chile Fettuccine
The Red Chili Fettuccine is a light and spicy red chile blend pasta directly inspired by the Southwest. This pasta pairs perfectly with all the wonderful ingredients of the region: lime, cilantro, salsa, cumin, garlic, avocado, mango, and beans. It looks beautiful on a plate and next too a lush green salad, steak or sausage link.
But no need to add sauce — but if you want to, we sell some of that too.
When your pasta tastes and looks this good you don't HAVE to cover it in sauce. All you have to do is to add a little olive oil and parmesan cheese and you're good to go! 
We believe that good food brings people together, and we're excited to bring you into our marketplace family! Fill your table with some Good Things and see what else is new in our farmer's market.
Order your Wendi's Good Things Market pasta today and experience the taste of tradition, crafted with care from my home to yours. Enjoy!
Want recipes ideas for your pasta? Sign up for our emails and receive more Good Things right in your inbox!
---